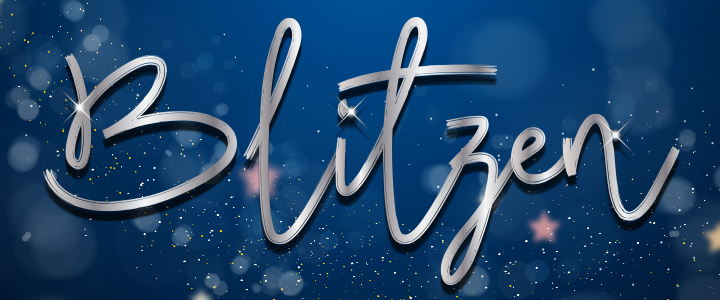 Burlington's first and only pop-up bar. Enjoy an eclectic festive atmosphere with unique charcuterie boards and full bar with specialty cocktails for your holiday get-together!
Open at 5pm
December 16 – 31.
Reservations recommended. Call 319-237-8355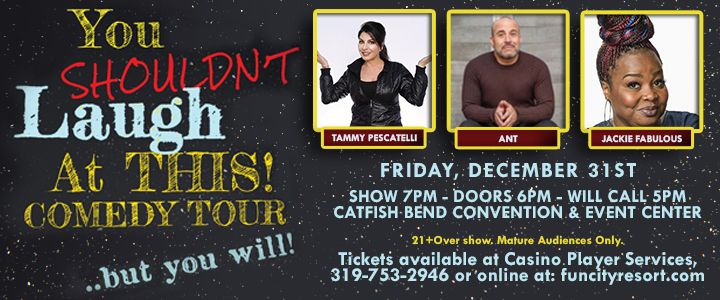 NEW YEAR'S EVE COMEDY SHOW!
You Shouldn't Laugh at THIS! Comedy Tour…but you will!

New Year's Eve Comedy Show Friday, December 31st at Catfish Bend Convention & Event Center

TICKETS ON SALE NOVEMBER 1 at 10AM!

VIP Tables of Six – $300 – Includes 6 seats, NYE party favors, a bucket of beer & bottle of champagne! Reserved Theatre Seating – $30 advance/ $40 door 21+Over show. Mature Audiences Only.

Show 7PM – Doors 6PM – Will Call 5PM.

Advance Ticket Sales end at Noon on Friday December 31st. Day of Show Door Tickets may be purchased at 5PM. No refunds. Tickets available at Casino Player Services, 319-753-2946 or online at: funcityresort.com

Show Description: It's not about politics. It's not about religion. They aren't saving the planet. They're saving your sanity! A brand, new comedy special that is going to bring back the number one and seemingly forgotten rule of comedy, be funny! Outspoken and un-cancelable veteran comedians, Tammy Pescatelli, ANT and Jackie Fabulous will make you laugh!

Comedian Bios Below: Arguably one of the hardest working women in comedy today, Tammy Pescatelli brings brassy sexiness with a bold voice of witty sarcasm to her audiences, holding her own on the topics of sports, television, dating and family life using tongue-in-cheek humor. She is relatable to every audience member-male & female. After seeing Tammy perform, nearly everyone wishes she was their best friend or sister! "Tammy Pescatelli's : Way After School Special", her new special, is a highly anticipated follow up to Tammy's award winning one hour Netflix (now both on Amazon Prime) special, "Finding the Funny."

ANT is developing several projects for television and he continues to tour with his stand-up comedy around the country. You may know him from his big opportunity with NBC's Last Comic Standing. ANT was 6th runner up on the second season. He used that forward momentum parlaying it into a hosting job on the VH1 series, Celebrity Fit Club. He has been the host of the hit series for 6 of its 7 unprecedented seasons. His blog, "The ANT colony" attracts millions of visitors each year and has enlightened millions more with it's unique mixture of spirituality and humor.

Comedian Jackie Fabulous captured America's heart as a semifinalist on the 2019 season of America's Got Talent. She's got charms that can make even Simon Cowell blush! Jackie Fabulous is a hilarious and affable stand-up comedian, writer, actor, producer, motivational speaker, and headliner who uses her jokes and sparkling nature to simultaneously entertain, and empower audiences while keeping them laughing. Jackie's standup has been featured on the Gotham Comedy Live, FOX, BET, Last Comic Standing, Kevin Harts LOL Network and more!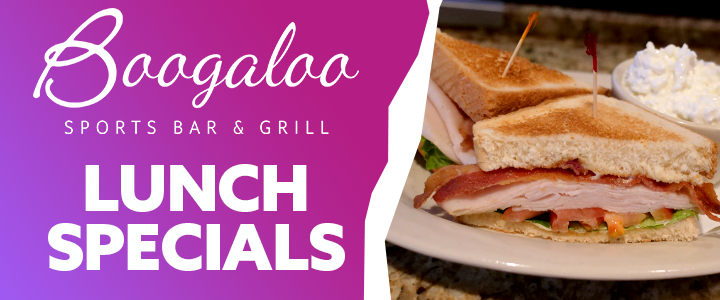 Burger Basket
Cheeseburger, sidewinders and a soda, $9.99

Soup and Salad
Cup of tomato with tossed salad, $7.99

Half Chicken Bacon Ranch Salad Grilled or fried chicken, $6.99

Half Lips & Lettuce, $6.99

Turkey Club with Cottage Cheese, $8.99

Half sandwich, $5.99

Available Monday-Friday, 11AM-2PM. Dine-in only.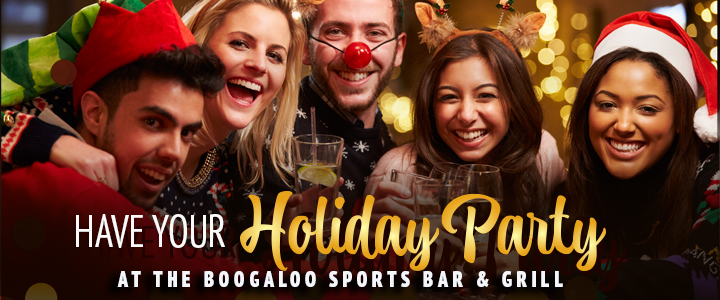 HAVE YOUR HOLIDAY PARTY AT THE BOOGALOO
Have your Holiday Party at the Boogaloo Sports Bar & Grill!

No room charge. Space for up to 60 people.


Book now! Call (319) 237-8355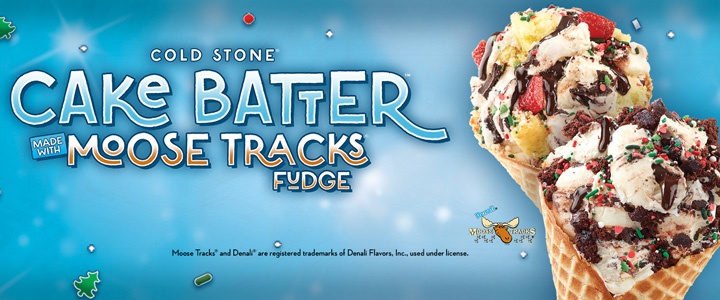 COLD STONE CREAMERY CAKE BATTER ICE CREAM® MADE WITH MOOSE TRACKS® FUDGE!
If you love Moose Tracks® Fudge, you'll want to unwrap this gift early! For the holiday season, Cold Stone® and Moose Tracks are teaming up to give ice cream lovers Cake Batter Ice Cream® made with Moose Tracks® Fudge! Our most popular Cake Batter™ swirled with Moose Tracks Fudge? Yes, please! We'll make holiday wishes come true with two festive Creations™ and an Ice Cream Cake made with this delightful flavor.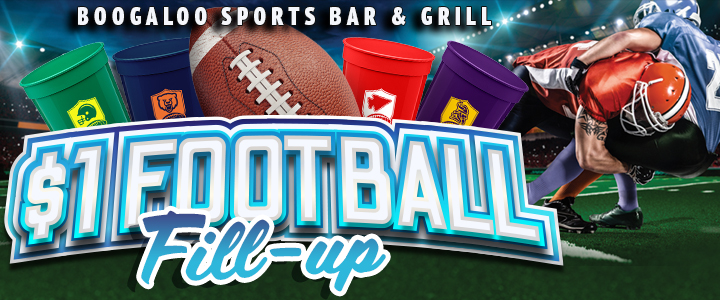 Purchase your Fan Favorite 22oz cup for $4 and enjoy $1 domestic draft refills while cheering on YOUR TEAM during that game!

Team Games & Cups to Choose From:
Chiefs, Packers, Bears & Vikings.

Special valid during your team cup game. Domestic Drafts. Single game day use only. NFL® is a registered trademark of the National Football League and is not affiliated with this promotion.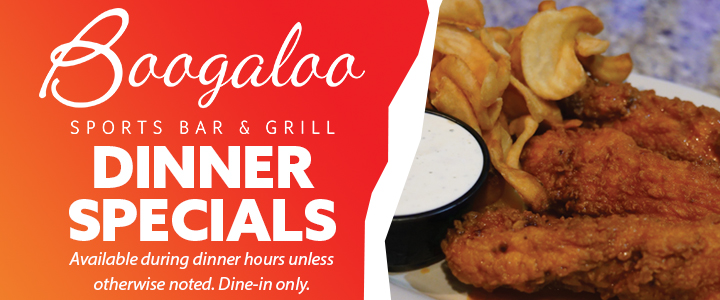 MONDAY: Lips and Fries. $9.99

TUESDAY: Smothered chicken with baked potato. $12.99

WEDNESDAY: Three piece fried chicken dinner with mashed potatoes and corn. $12.99

THURSDAY: 8 ounce sirloin with potato. $14.99

FRIDAY: Fried catfish filets with potato. $14.99

SATURDAY: 12 ounce Ribeye with potato and salad. $19.99

SUNDAY: 16 inch two-topping pizza. Available 11AM-9PM. $11.00

Dinner specials available after 5PM unless otherwise noted. Dine-in only.