CASINO HOURS
Open daily: 10AM – 2AM
New Year's Eve Hours: Open Continuously Dec. 31 at 10AM – Jan. 3 at 2AM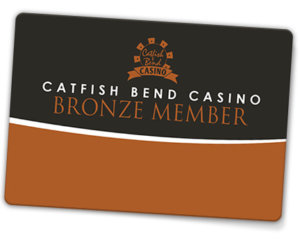 To buy-in or join a game, place cash or chips directly on the gaming table. Dealers are not permitted to remove anything from a player's hand.
Present your Players' Club card at the beginning of your play at the table. You'll earn valuable points for slot play OR free bet cards for table game play. In addition, Catfish Bend Casino rewards your play! You could receive free meals, lodging, entertainment, discounts and more.
Mississippi Stud
Mississippi Stud is BACK! Get a pair of Jacks or better to win, or a pair of 6's to 10's to push. Visit the Casino Pit for details.
Free Bet Blackjack
Visit the Free Bet Blackjack table at Catfish Bend Casino. Free double down when your two cards total a 9, 10 or 11. Free split with any pair except 10's. Push 22: if the dealer busts with a point total of 22, all Blackjack bets in action are pushes. Visit the Casino Pit for more details
Multiple Hand Blackjack
Available exclusively at Catfish Bend Casino. Play 2 to 7 hands at once at Table Limit. Visit the Casino Pit for more details.
Spanish 21
Spanish 21 is a variation of Blackjack with more liberal rules but played without tens in the deck. All face cards are still used. Player's Blackjack or 21 always beats the Dealers Blackjack or 21.
Classic Black Jack
$5 – $1000 Betting Limit Higher limits upon request. Each player places a wager in the center of the betting circle. The dealer then deals two cards to each player, face up. The dealer also receives two cards, one face up, the other face down. Kings, Queens, Jacks, and 10s each count as 10. Aces count as 1 or 11 as a player wishes. All cards, 2 through 9, count at face value.
If your first two cards are an Ace and any ten value card, the Dealer announces your hand as Blackjack and you are paid one and one-half times the wager (3 to 2) unless the dealer also has Blackjack. You may not take a "hit" on a Blackjack. However, if you don't have Blackjack, you may continue to draw cards attempting to total as close to a score of 21 without exceeding it. If you do go over 21, you "break" and lose the wager.
i

-Table Roulette

$5 – $500 Betting Limit i-Table Roulette combines the excitement of traditional roulette with all bets and pays made electronically. You'll always be paid correctly, and you won't need to wait! With easy to use touchscreens and a big, bold table display, i-Table Roulette makes the game easier and more fun than ever before!
Ultimate Texas Hold'Em
Ultimate Texas Hold 'em is a poker based casino game in which the player may make one raise at any time during the course of the hand. The earlier the raise is made the higher it may be.
4-Card Poker
Four Card Poker is an exciting stud poker game that offers three ways to play and four different ways to win. Players may bet against the Dealer or bet on the value of their own hard or both. Bonus payouts may be had for certain hands when wagering against the Dealer.
Fortune Pai Gow Poker
[/vc_column_text][vc_column_text]
Play a $5 Fortune Bet, pay NO COMMISSION!
$15 – $1000 Betting Limit / $1 – $25 on optional Bonus Bet Pai Gow Poker combines the elements of the ancient Chinese game of Pai Gow and the American game of Poker. It is played with a traditional deck of 52 playing cards plus one joker.
Ranking Hands The value of hands is based on basic poker rankings. Each player is dealt seven cards that you arrange to make two hands: a two-card hand and a five-card hand. The five-card hand must be a higher ranking poker hand than the two-card hand. (If the two-card hand is a pair of sevens, for example, the five-card hand must be at least a pair of sevens or higher.)
Object of the Game The goal of Pai Gow Poker is for both of your hands to win. If you win one hand but lose the other, that is considered a "push" and you neither win nor lose. When both of your hands are higher than the dealer's or player/banker's hand, you win even money less a 5 percent commission.
Craps with 10X odds
Cigar and pipe smoking is not permitted inside Catfish Bend Casino