Arcadium features the hottest interactive video games from your favorite classic to a realistic 3-D flight simulator! Earn quality gifts and fun prizes at the FunCity redemption counter. Challenge your friends on our big screen sports games!
FEATURED GAMES AT ARCADIUM!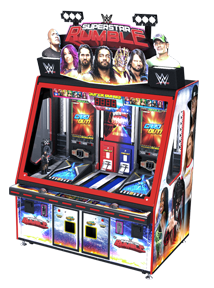 This officially licensed arcade redemption game has been designed to capture every bit of excitement that the high-octane world of the WWE offers. Players fire steel balls at a moving target resembling the iconic WWE championship belt. A successful hit moves the player up the ladder, while a miss redirects the ball onto a maze-like playfield, clad with pegs, where tickets are won. Your goal is to reach the top of the ladder to win collectible cards. Drain balls five times in the center hole of the pegged playfield to enable multi-ball action, almost like a pinball machine!
JOKER VS. BATMAN: LAUGHING MADNESS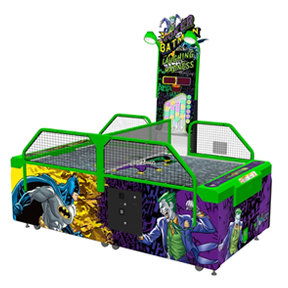 Joker Vs. Batman is based on the popular Pac-Man Slimline design, a unique multi-puck air hockey table that provides a type of play that you can only find in arcades. When the game first starts, players hit one large puck between the sides in an effort to make a goal. Then during play, a barrage of mini-pucks are launched onto the playfield, creating a frenzy of fun that is unlike any other kind of air hockey table! The game features different scoring depending on the puck that passes through the goal, with mini-pucks earning fewer points than the large one.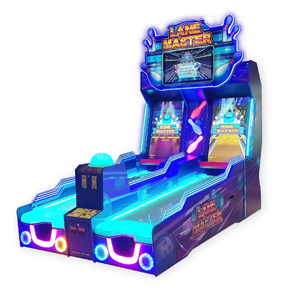 Combine the physical fun of a traditional alley bowler with the flexibility of a video game. Sensors detect the speed, angle, and spin of the ball and it's translated on-screen. The Lane Master arcade game uses traditional bowling rules with the overall style of the software matching the sleek neon lights of the physical cabinet. The gameplay is occasionally spiced up with special bonus games that would not be possible in a real life bowling alley.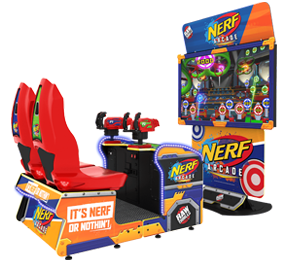 NERF Arcade is a high-energy, fast-paced game that is exciting for kids of all ages and family-friendly. Players grab hold of two oversized NERF Blasters and shoot as many targets as possible to win tickets or reach a high score.
WWE Superstar Rumble
Lane Master Bowling
Joker vs Batman: Laughing Madness
Injustice: Arcade
The Walking Dead
MOTO GP Motorcycles
Luigi's Mansion
Galaga Assault
SpongeBob Pineapple Express
Grand Piano Keys
Star Wars Battle Pod
Batman Video Racing
Jetpack Joyride
Candy Crush
Connect Four Hoops
Pearl Fishery
NERF Arcade
Flying Tickets
Crossy Road
Fruit Ninja
Pac Man Battle Royale
Guitar Hero Arcade
Deal Or No Deal
Max Flight 3-D Simulators
Mario vs. Sonic at the Olympic Games
Bigfoot Crush
Ice Ball F/X skee balls
Jurassic Park
TEKKEN
Airhockey and Basketball challenges
Racing games and shooters
tons of exciting ticket games
and more!
PLEASE NOTE: TO ENSURE THE SAFETY OF GUESTS, ALL CHILDREN UNDER THE AGE OF 16 MUST BE ACCOMPANIED BY AN ADULT OVER THE AGE OF 21 FOR USE OF THIS FACILITY. CHILDREN AGED 16-18 WHO ARE NOT ACCOMPANIED BY AN ADULT OVER THE AGE OF 21 MUST VACATE THE PREMISES BY 8PM. DISRUPTIVE BEHAVIOR AND LOITERING WILL NOT BE TOLERATED.